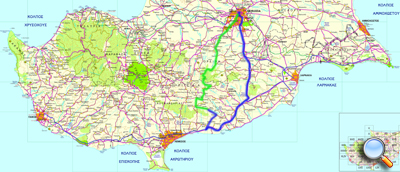 Head towards Nicosia-Limassol highway. Take the exit for Moni. After crossing the highway bridge, you will reach the village of Moni. Keep straight towards Monagrouli. After cutting across Monagrouli and Asgata, you will reach the beautiful village of Vasa Kellakiou in five minutes time. This route lasts 1 hour and 15 minutes. 
You can also visit our village via the mountainous villages of Kampia, Kapedes, moni, Machairas, Agioi Vavatsinias, Ora, Akapnou, Kellaki, Sanida and Vasa. 
There are helpful street signs along the way.